Groups for Children aged 0-5 years
PLEASE NOTE THAT DUE TO THE COVID-19 (CORONAVIRUS) PANDEMIC, ALL GROUPS ARE TEMPORARILY CANCELLED.
As soon as we are able to resume normal service, we will be advertising the availability of our groups on the website and our Facebook page.
The Bramley Cluster delivers the Children's Centre Family Services across the Bramley and Hollybush reach areas.
These fun, interactive groups give children the opportunity to play and socialise with others whilst promoting their development.
The groups are run term time, for details about when, click here for the What's On calendar.
For for a copy of the activity programme please click here or call Bramley Cluster on 0113 386 2360.
Rockin' Rhyme Time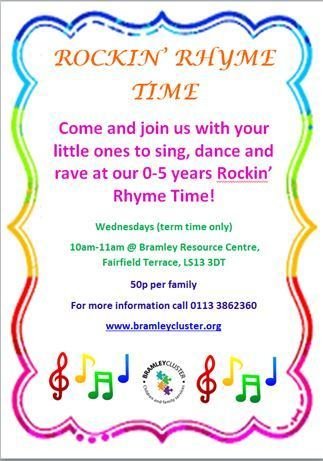 A group for children aged 0-5 years. Lots of physical movement, listening, singing and dancing to learn well loved songs and rhymes.
PLEASE NOTE BOOKING IS REQUIRED FOR THIS ACTIVITY
Bramley Cluster Splash Attack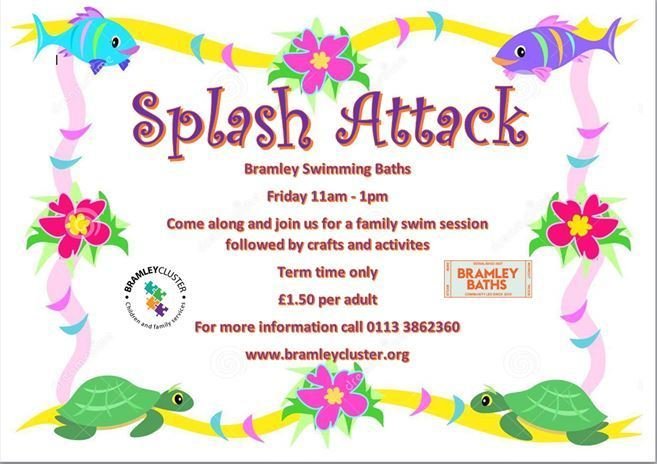 A swimming session for very young children with their carers to build children's water confidence.
Followed by arts, crafts, songs and rhymes at Bramley Baths.