What's On - Seasonal Groups
Bramley Cluster
Many of the groups we love to offer are provided face to face under normal circumstances and have been disrupted due to the outbreak of the COVID-19 (Coronavirus) pandemic.
Please check back in the future as we can't wait to bring back our regular seasonal groups.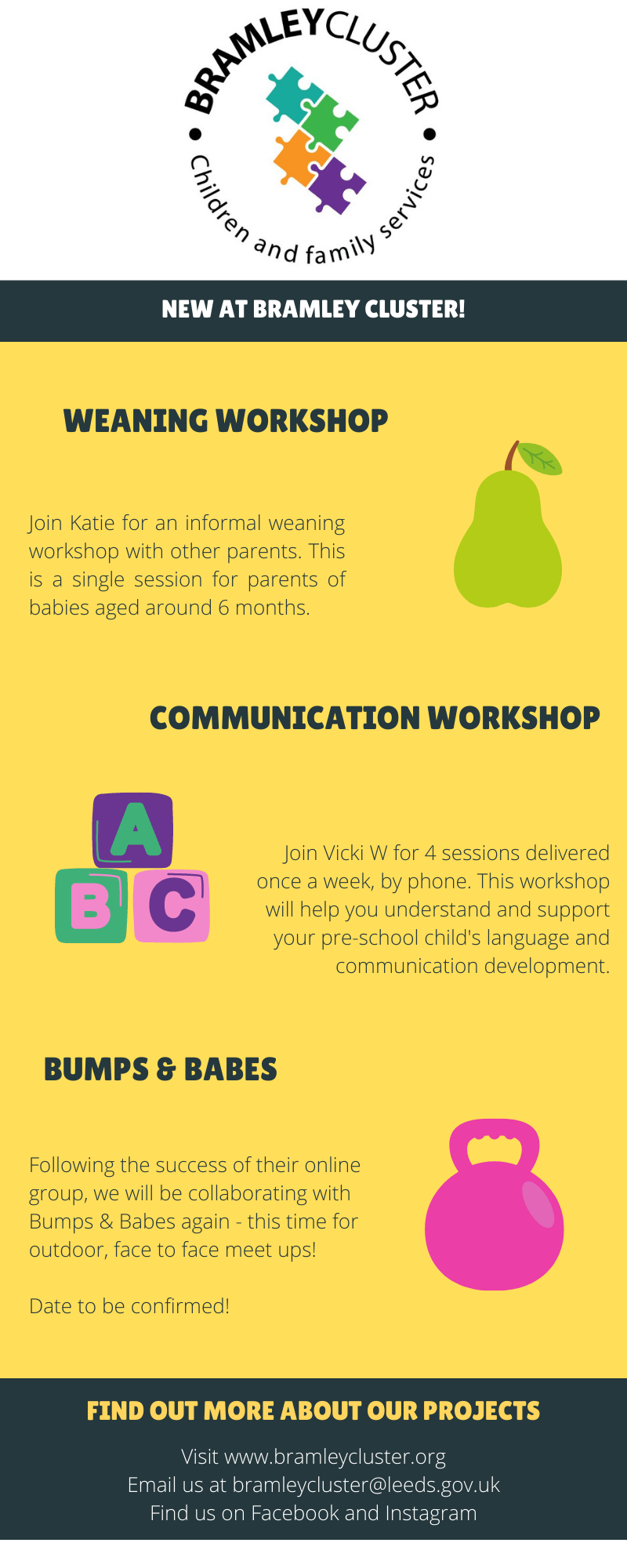 HENRY Healthy Families Programme - Online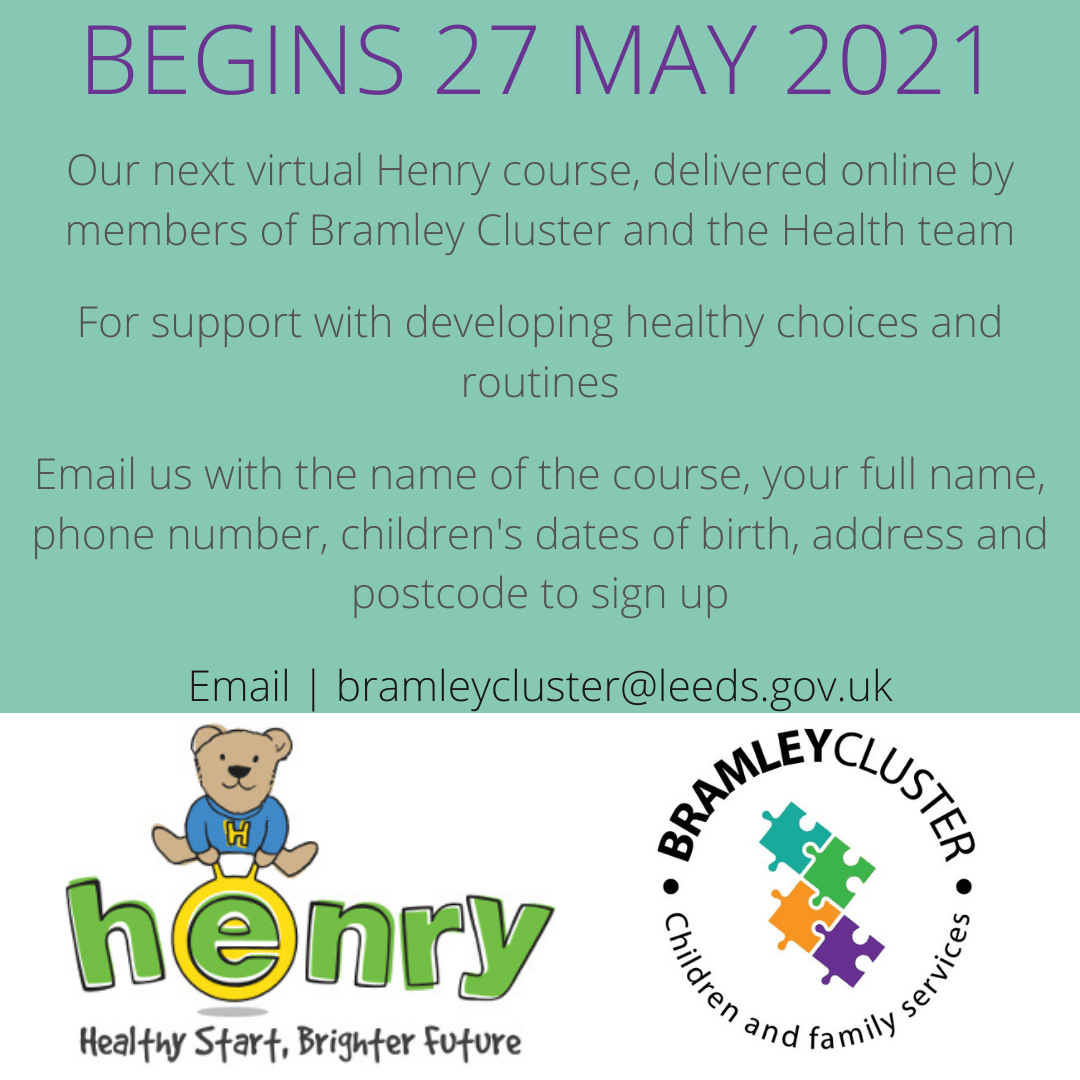 Our new online HENRY programme is being run in Partnership with the Bramley Health team. Click here to find out more.
Healthy Start
If you're pregnant or have a child under 4, the Healthy Start scheme can help you buy basic foods like milk or fruit.
Updated info: Iceland have been the first retailer to commit to adding value to the vouchers by giving any Healthy Start recipients who shop in Iceland a £1 bag of frozen vegetables from 11th September
Updated info: Co-op shops have committed to provide an additional £1's worth of shopping for families shopping with Healthy Start vouchers
See, Hear, Respond
SUPPORT FOR NEW PARENTS AND FAMILIES WITH CHILDREN UNDER THE AGE OF 2 YEARS. IF YOU WOULD BENEFIT FROM ANY OF THE FOLLOWING SUPPORT, CLICK HERE TO SELF-REFER TO BARNARDO'S 'SEE, HEAR, RESPOND' PROGRAMME.
1. Online daily advice and support: Daily information, access to hundreds of films and to other support including the confidential 24/7 Crisis Messenger text line. This is delivered via NHS approved Baby Buddy app
2. Group Work: A series of three antenatal or postnatal sessions with c. seven other parents or parents-to-be covering a range of topics including managing anxiety and stress to understanding your baby. The sessions are run by two experienced facilitators one of which will be a midwife or an antenatal educator.

3. Therapeutic support: For parents that would benefit from one-to-one support, three hours of free customised support delivered by phone, or online by experienced practitioners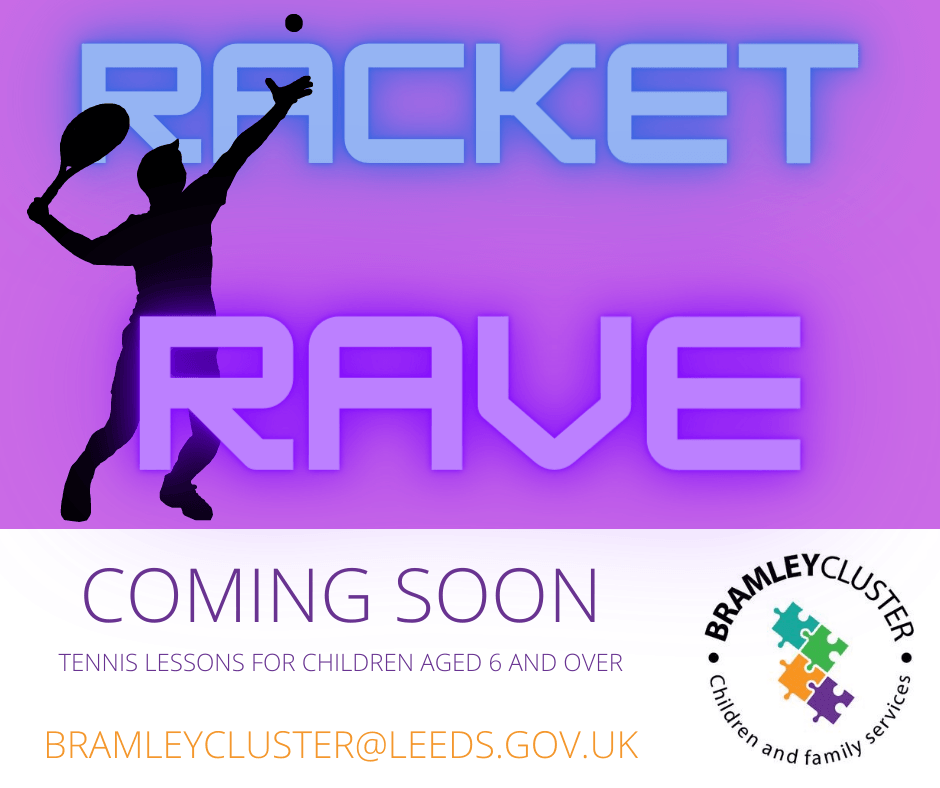 Fancy something different? Ever thought about being the next Andy Murray or Serena Williams?

Why not try your hand at our new Racket Rave! Nothing too strenuous, nothing too complicated, but lots of fun.